Availability
: Open
Posting Speed:
As often as possible by participants (currently fast)
Posting Order:
Metarie, Xeis, Jaspeneller
Location:
In Alternate Realities:
viewtopic.php?f=38&t=1992&p=20856#p20856
Summary:
Long ago, a race blessed by their gods sought knowledge best left unknown and unleashed a "darkness" or chaos upon the world. That chaos was magic. While some of that race succumbed to the tainted influence of the "darkness", others fought to keep it from overtaking the world. That war was called the Changer's War.
12 souls sacrificed themselves to become a living, magical seal against the "darkness".
Something has happened, though, and the seal has been broken. The "darkness" has begun to permeate the world once again.
The seal must be repaired before the whole of the world is plunged once more into the nightmarish chaos experienced before and during the Changer's Wars.
Notes:
The idea is that this is quest in fantasy genre RP. In other words, there's a plot in mind.

Having said that, this is still cooperative fiction. Where the story-tellers take it is where it will go.
Current Characters:
Misumi Ayako
,
Human scribe, has found a memory book - a special book made of magic during the time of the Great Exodus that holds the thoughts of feelings of another scribe named Salovuje. Salovuje witnessed the destruction wrought by the darkness and recorded all she knew of how the events unfolded. Within the pages of the journal lies the clues to find the land of Numen and the source of the Great Seal. Misumi Ayako is Salovuje, reborn.
Elemire Oranrae
,
Elf warrior, has been tasked to find the source of the taint and quell it by her goddess, Baresi. Given the name Salovuje and a direction, Elemire travels to the City to search through the Hall of Records. At the Tavern and Inn, Elemire finds who she seeks, but not the answers she needs.
Yyan Ilinari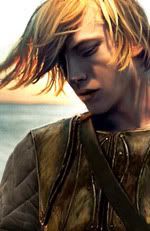 Possibly mixed breed human; a jack-of-all trades, has a mysterious past and is more than he appears to be. On a whim, he approaches Misumi - the call of travel a siren-song too hard to resist. Drawn in by her story, Yyan volunteers his skills to aid her.
Will you help or hinder? Certainly there are many who would like to have the Great Seal destroyed and to release the Dreaming back into Pal Tahrenor. Are you one of those? Or, are you one who would help retain order and hold back chaos and madness?